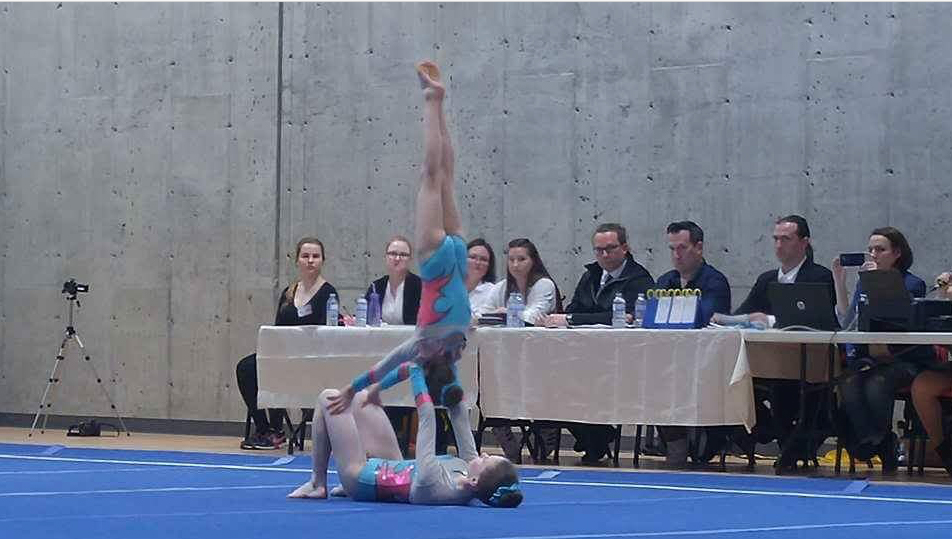 7 Fingers Cofounder and Co-Artistic Director Sébastien Soldevila has stepped back into the world of acrobatic gymnastics. The former champion athlete was a judge at the first competition of its kind in Quebec.
Accepting an invitation from Dmitry Belyaykov, , an old friend and former artist on Saltimbanco (Cirque du Soleil), Sébastien judged young athletes during the first Akrobatica Cup in Longueuil, Québec. Joining him as another judge was Sasha Poztnyakov, a Korean teeterboard coach on Kooza (Cirque du Soleil),, Four clubs from Quebec participated in the event, which took place in May 2017. Prior to creating the competition, Dmitry founded the Acroshkaen club in 2002.
Acrobatic gymnastics: A close cousin of circus
Acrobatic gymnastics (also called sport acrobatics or acrosport) includes several disciplines that are extremely close to those of circus. "Pairs" corresponds with the circus technique "hand-to-hand," while "group" relates closely to "banquine."
Acrobatic gymnastics training is an excellent foundation for circus. Athletes with an acrobatic gymnastics background can easily take on significant roles in circus shows, where they bring high acrobatic skill, energy, and dynamism. In The 7 Fingers' Cuisine & Confessions, for example, having multiple acrobatic "bases" and "flyers" allows for incredible group scenes. Artists like Nathan Price and Isis Clegg-Vinell of The 7 Fingers' Traces were trained in acrobatic gymnastics before pursuing circus training at the National Circus School of Montreal.
From one to the other
Sébastien was trained in mixed pairs at the Bois-Colombe club by par Jean-Luc Voyeux, one of the best coaches in France. "I was doing trampoline at the time, and he was looking for an acrobatic partner to base one of his young athletes, Émilie Bonnavaud. He trained me in the discipline. Mimi was the only flyer I ever worked with. With her, we finished fourth in the European championships and seventh in the world championships. When I started the sport in 1992, the level of mixed pairs was very low in France. We were the only international-level pair. As with any sport, success breeds more passion. Acrobatic gymnastics began to develop across the country, and the French level grew stronger.
Émilie and Sébastien were recruited by Cirque du Soleil and joined together. In 2002, Sébastien cofounded The 7 Fingers and Mimi followed him soon after. They put their acrobatic pairs skills into what became an astonishing hand-to-hand act, earning a gold medal at the Festival Mondial du Cirque de Demain in Paris.(VIDÉO)
Building bridges
Almost inexistent in Quebec ten years ago, acrobatic gymnastics is currently on the rise. Sébastien was able to assess the current level and to provide working guidelines to coaches. In Longueuil, certain national level athletes displayed very good foundations and potential for circus. It would take less adapting for those athletes to enter circus than it would for athletes coming from traditional gymnastics.
To a certain extent, we can say that the Gymnastics Federation has a direct impact on circus disciplines. For example, athletes place their efforts on what is valued in the scoring system. The current scoring system places less importance on banquine; as a result there has been a recent decline in banquine level among acrobatic gymnasts entering circus.
Currently, acrobatic gymnastics does not receive a great deal of support from the Quebec Gymnastics Federation because it is still a new discipline in Quebec. Sébastien wishes to support the new wave of clubs cropping up in Quebec and to encourage the growth of a significant new pool of high-level athletes, many of whom might be able to enter high-level circus schools later in their lives. The 7 Fingers Centre of Creation and Production, opening in 2018, is intended to be a place of exchange. Sébastien hopes to host acrobatic encounters connecting people from both circus and sports, certain that this type of event will help athletes, circus performers, and coaches alike.