November 17-18, 2022
The first professional event in Montreal dedicated to connecting performing arts and creative technologies, the LAB7 Forum took place on November 17 and 18, 2022. Panels, presentations of case studies, and conferences were held alongside artistic presentations, open rehearsals, and Q&A sessions.
Over the course of two days, two hundred on-site visitors and 150 online viewers enjoyed a rich program of activities, networking events, and opportunities to connect with notable panelists and artists.
The LAB7 Forum offered a broad overview of the field, covering topics as varied as the artistic process, collaboration, training, funding, and the state of research. Participants were able to enjoy stimulating presentations, including case studies of innovative projects and an especially inspiring talk given by François Girard.
All this was enhanced by high-caliber artistic presentations demonstrating different uses of technology in the performing arts. The LAB7 open rehearsal sessions featured a project directed Samuel Tétreault in which performers' movements were transformed in real time into visual artworks. Guest artists presented one project in which the sound creation was shaped by the movements of the performers (CirK 2.0 by Naël Jammal and Robert Cookson) and another in which movement was transformed into sound and light (Lab10 by Julia Sanchez).
To view recordings of the conferences, visit: Forum Highlights
Forum LAB7 Government Support
This event is possible thanks to the financial support of the Conseil des arts et des lettres du Québec.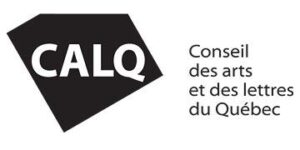 We acknowledge the support of the Canada Council for the Arts.