The world-renowned circus and arts collective has joined forces with creative studio, Shocap Entertainment, in a bid to transform live storytelling and connect to a global audience with simultaneous live and virtual shows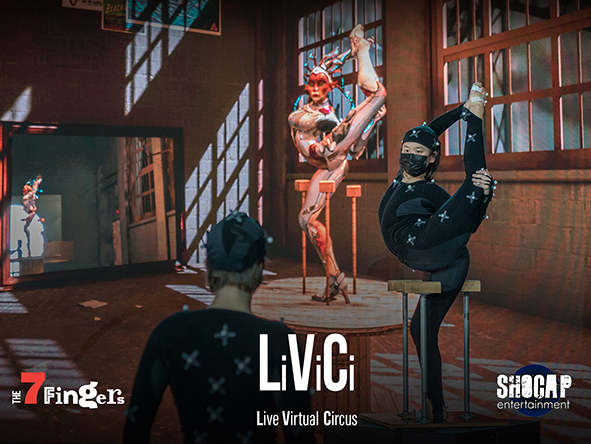 Vancouver, March 2021 – The 7 Fingers and Shocap Entertainment have officially announced their partnership, combining breathtaking, live circus performance with cutting-edge visual artistry. The two companies are aiming to spearhead a transformation in live performance and visual storytelling, introducing a synthesis of on-stage acrobatics and computer-generated, real-time visual effects where performers interact with digital counterparts live and on-stage.
To connect to a larger audience than ever before, the partnership's new approach to performance will allow for the simultaneous viewing of a performance by in-person and remote viewers. The remote aspect to the performances will also be highly interactive, providing each person with an element of direct participation.
The partnership's flagship project, LiViCi, is the first of what the pairing sees to be many awe-inspiring performances that offer viewers a chance to experience incredible live productions, both in-person and remotely using a virtual reality headset or through a 2D livestream. The 7 Fingers and Shocap are aiming to enhance and extend the audience experience, giving remote viewers access to entirely unique and interactive perspectives while in-person audiences witness an expanded on-stage experience.
Samuel Tétreault, Co-founder & Artistic Director at The 7 Fingers explains, "To extend live performance art to as many people as possible, we need new and exciting storytelling tools, and with Shocap Entertainment, we can significantly expand our arsenal – we're using technology to invent new artistic languages. We don't want to just showcase video effects like they're tricks, we want them to be meaningful and to serve the story directly."
Live performance for a global audience
The partnership between The 7 Fingers and Shocap Entertainment was fostered before the pandemic hit, with the pairing already aware of the huge growth in interest for performances utilizing technology previously found only in blockbuster movies. The anticipation of a return to in-person festivals and performances is incredibly positive for global entertainment, but there will remain an audience excited and eager to experience the new, remote artistic mediums that rose in response to social distancing measures.
Samuel Tétreault adds, "While we already had a vision for a compelling experience using technology once reserved for movies and video games, the pandemic has taught us that it's now even more accessible for live arts, spurring our vision forward. There is something amazing about the experience of seeing live shows in person but LiViCi will offer a new way to access immersive live experiences even for people living away from big cities and cultural centers."
Athomas Goldberg, co-founder and executive director of Shocap Entertainment, "The underlying concept is: "create shows that are live and virtual" – both in a physical venue and outside of it. With our technology, you can physically create fictional worlds that take place within an on-stage character's imagination, positioning a virtual camera on the fantastical. Real performers can interact with the virtual performers on stage, an enhancement of the incredible productions The 7 Fingers already display and we feel we're on the cusp of a new future for live performance."
With recent successful workshops showcasing the incredible possibilities on-offer, the partnership is readying to present a LiViCi music series in the coming year. The LiViCi Music Series brings renowned musicians and singers together with world class circus artists in a unique series of concerts presented onstage before a live audience, and as an immersive virtual reality experience for connected participants from across the globe. This is part of a push towards a much larger production planned for the future.
Stay tuned for more about The 7 Fingers and Shocap Entertainment and discover how the adoption of new technologies and storytelling tools is helping drive a new future for live performance.
The 7 Fingers (Les 7 Doigts)
The 7 Fingers, a contemporary circus arts collective, tells stories using death-defying acrobatics with life-affirming theatricality that is unique to the company. Since its inception in 2002, the company has expanded from its own signature shows to creating theatrical experiences as diverse and unique as the very artistic directors themselves, original productions ranging from intimate one-man shows to large-scale arena performances, Broadway musicals, Olympic ceremonies, televised performances, fashion, art and music events, immersive experiences and much more.
About Shocap
Created in partnership by Lifelike & Believable and Animatrik, Shocap Entertainment produces live cross-reality entertainment using real-time visual effects technology and on-stage human performance to create unique shared experiences simultaneously performed in front of live audiences, online audiences connecting from VR headsets, gaming PCs, and video streaming services. Each production draws from the contributions of multiple creative voices, with experienced collaborators from live performance, film, animation and video games.