Audiences are set to be captivated at the unveiling of Carry Me Home during the exclusive onstage premiere in Vancouver, through rich immersive virtual worlds of dreams, storytelling, acrobatics, dance and uplifting lyrics and music. Synchronously live streamed, the hybrid show will enable online and VR audiences everywhere to connect and interact together through the magic of live extended reality entertainment.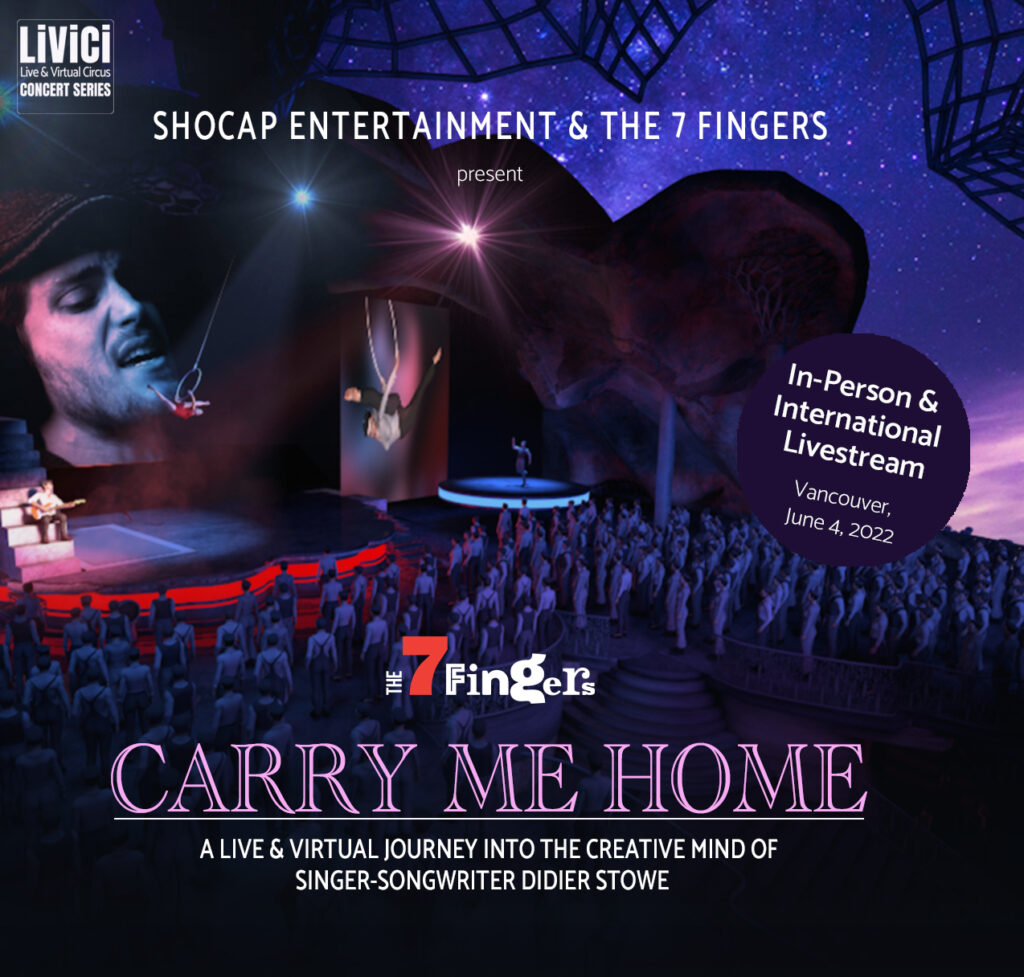 BURNABY, VANCOUVER, BC, May 3, 2022 – SHOCAP ENTERTAINMENT, the leading entertainment and extended reality (XR) production company, and internationally renowned THE 7 FINGERS (LES 7 DOIGTS DE LA MAIN) Contemporary Circus Arts Collective in Montreal, QC are excited to unveil the first of The LiViCi Concert Series, Carry Me Home: A Live & Virtual Journey Into the Creative Mind of Singer-songwriter Didier Stowe on June 4th, 2022. Audiences in-person, online and donning virtual reality headsets will be immersed and entertained in unison through powerfully evocative memories, dreams and interactive fantasy worlds.
Speaking to the soul of LiViCi's, Carry Me Home the show is a tribute to the mind's incredible capacity to imagine, dream and create — a truly unique human trait that connects us all.
Athomas Goldberg | Creative Director | Shocap Entertainment: "Our ambition is to entertain all audiences simultaneously with stunning hybrid live entertainment which excites and inspires the imagination. Through our 4-Audience Model of in-person performance, livestream video, interactive gameplay, and immersive VR, we're pioneering new ways for audiences everywhere to come together, be entertained with quality productions and experience our events at any one time."
Samuel Tétreault | Artistic Director | The 7 Fingers: "Through an exceptional combination of music, circus, dance, theatrical performances and cutting-edge technology, we're together creating live events that are meaningful and uplifting."
One day, two onstage shows, with online interactive livestream
The exclusive seated event is hosted and livestreamed to the world direct from the studio of acclaimed Animatrik Film Design in Burnaby, Vancouver. In-person audiences have the opportunity to access a number of VR headsets to experience rich virtual world immersion and interactions during the livestream. Online attendees have the choice to enjoy watching the video stream, or move around the virtual arena and watch from various Point Of View (POV) – even through the eyes of the circus performers throughout the #TogetherExperiences. The Interactive 3D experience is accessible from any web browser on any laptop or desktop computer, VR headsets and mobile devices.
The eagerly awaited show features live music and lyrics by acrobat turned singer songwriter Didier Stowe, known for his performances at world-renowned festivals including the "Monte Carlo Circus Festival", and "Le plus grand cabaret du monde'', and Cirque du Soleil resident show "Joya" in Mexico during his extensive tenure. In-person audiences together with online and VR attendees will travel and engage through the labyrinth of the creative mind, with thrilling acts performed by acrobatic performers who puppeteer their virtual avatars within evocative story-worlds.
Showtimes and Ticket Purchases
Date: Saturday, 4th June, 2022 with two showtimes.
Vancouver in-person: 1:00pm and 6:00pm PDT
Onstage at Animatrik Film Design Studios, 4088 1st Avenue, Burnaby, B.C.
International livestreams: 2D Livestream, Interactive 3D
Vancouver and San Francisco: 1:00pm and 6:00pm PDT
Montréal: 4:00pm and 9:00pm EDT
Paris: 10pm and June 5th 3am CET
London: 9:00pm and June 5th 2:00am BST
New Zealand: June 5th 8:00am and 1:00pm NZST

Tickets: Purchase on The 7 Fingers website.
In-person, Animatrik Film Design, Vancouver:CAN$25.00 per person
Interactive 3D Experience: CAN$15.00 per person
2D Livestream: CAN$10.00 per person
About The LiViCi Concert Series
The LiViCi Concert Series début performance is set for Spring 2022 with further live shows slated in the winter. The LiViCi Series will provide audiences with a unique experience, combining the thrill of live circus performance with real-time character animation, high-end motion capture, and VFX in an immersive multiplayer virtual world they enter and explore with friends or go-solo. The series of live XR performances fuse contemporary circus and guest musical artists in a concert format, presented in the Shocap 4-Audience Model which is accessible for all audiences to view and interact simultaneously: in-person, livestream, multiplayer in-game, in VR – and next in the Metaverse. Shocap Entertainment's innovative hybrid concerts enables in-person and onlineaudiences to experience shows as #TogetherExperiences. The live shows are produced using the Ringmaster Virtual Performance System (VPS) and the audience engagement supported by the Shocap ARENA platform.
For more information please visit the Shocap Entertainment website.
Media Contact:
Siobhán Hofma | Shocap Entertainment | Siobhan.Hofma@Shocap.com
About Shocap Entertainment
Created in partnership by founders of Lifelike & Believable Animation Design and Animatrik Film Design, Shocap Entertainment produces live cross-reality entertainment harnessing real-time visual effects technology and on-stage human performance to create unique shared experiences simultaneously performed in front of live audiences and online audiences connecting from VR headsets, gaming PCs and video streaming services. Each production draws from the contributions of multiple creative voices, with experienced collaborators from live performance, film, animation and video games. Visit www.shocap.com to learn more about #TogetherExperiences.
© Copyright 2022 Shocap Entertainment, Ltd. Learn more about Shocap Entertainment on YouTube, Vimeo, Twitter, Instagram, Facebook, LinkedIn.
About The 7 Fingers
Created in 2002, the 7 founders set out to redefine circus by stripping down the spectacle to its thrilling essence. The contemporary company tells stories using death-defying acrobatics with a life-affirming theatricality that is unique to The 7 Fingers. The company has expanded from its own signature touring shows to creating theatrical experiences as diverse as the very artistic directors themselves: original productions varying from intimate one-man shows to large-scale arena performances, Broadway musicals, artistic collaborations, production design and direction, Olympic ceremonies, fashion, art and music events, immersive experiences and much more. Fascinated by the human condition, The 7 Fingers create performances that celebrate our world, our time and our humanity. For more information please visit The 7 Fingers website, Instagram, Facebook, LinkedIn