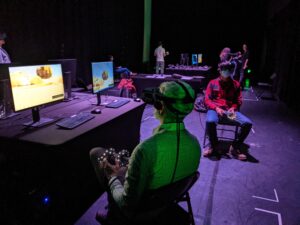 December 2022
In December 2022, The 7 Fingers, in partnership with Shocap Entertainment, presented in Montreal Carry Me Home, the first cross-reality live circus show. LAB7 invited a few members of the audience to enjoy the virtual version of the show in its pop up VR studio.
Carry Me Home plunges audiences into the creative mind of singer-songwriter and trampolinist, Didier Stowe, who is featured onstage with four other performers. Throughout the show, the artists' movements are integrated in real-time into a 3D digital story-world, thanks to state-of-the-art motion capture technology.
The in-person audience can see the artists avatars and 3D environments on the stage background. The show is also available online via video streaming alternating live and virtual shots, or a fully virtual experience where they can explore the 3D worlds while watching the show, either on their computer or in a VR headset.
For the three December 2022 performances in Montreal, LAB7 set up a virtual reality studio in partnership with the Institut Grasset and its VR training program. These technologies enabled a number of spectators to access VR headsets for an immersive virtual experience. The performances offered audiences the chance to interact with the show's environments and to enjoy this unique show, which was presented during an advanced prototype stage.
The unprecedented technological complexity of the show lays the foundations for a new type of performance, accessible in real-time to audiences across the world.
Sponsors