LES 7 DOIGTS DE LA MAIN & SHOCAP ENTERTAINMENT ANNOUNCE
A FIRST-EVER MULTI-REALITY SHOW IN MONTREAL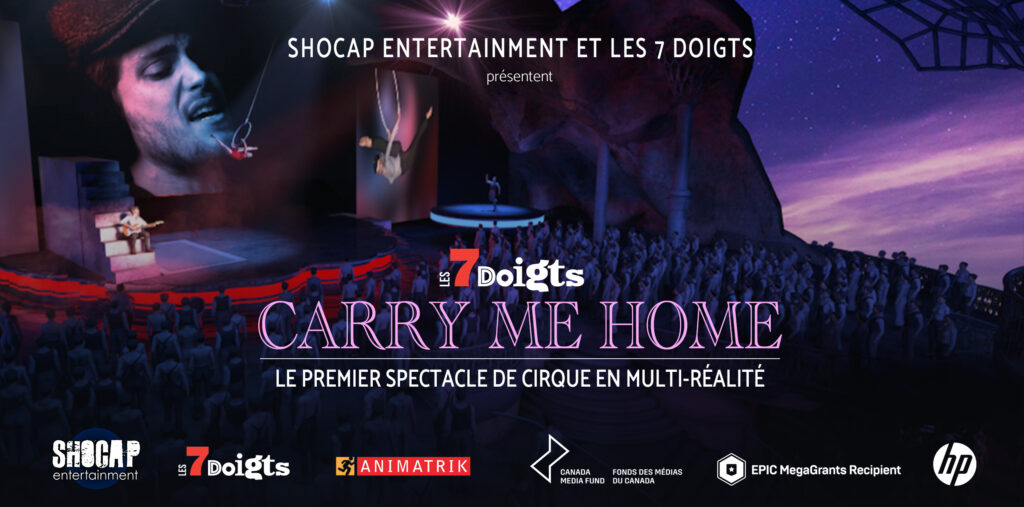 Using real-time motion capture and virtual reality technologies, Carry Me Home invites audiences to an unique and breathtaking combination of live music, circus and 3D animation.
Montréal, November 14, 2022 – A tribute to the human spirit and its incredible capacity to imagine, dream and create, Carry me Home is a deep dive into the universe of singer-songwriter and circus artist Didier Stowe. Didier has performed in The 7 Fingers' Amuse and Cirque du Soleil's Joya, and several of his songs have been featured in the television series Dexter and Ordinary Joe.
---
The 7 Fingers and Shocap Entertainment have created a world premiere of unprecedented technological complexity, presentated live on stage in front of a theater audience and broadcast around the world as an immersive and interactive multiplayer virtual reality experience powered by Redpill VR.
---
This new genre of live performance is a way for The 7 Fingers, and for the performing arts industry, to explore innovative artistic languages and to reach new audiences beyond theatrical venues while keeping the human element at the center of the cultural experience.
Since their very first show Loft, The 7 Fingers have introduced the use of new technologies to support their artistic intent. As early as 2002, we could already see interactions between an artist on stage and a multimedia content. Today, in this creation directed by Samuel Tétreault (The 7 Fingers) and Athomas Goldberg (Shocap Entertainment), the collective will meet its audience in the metaverse.
---
The show will be presented in the studios of The 7 Fingers in Montreal on December 15, 16 and 17 and will also be accessible from a computer, a connected screen or a virtual reality headset on the Redpill VR platform.
---
In the Studios of The 7 Fingers in Montreal
The three performances of the show will take place in the Studios des 7 Doigts, offering an immersive experience that allows the audience to appreciate both the artists' performances on stage and those of their 3D avatars in a virtual universe via video projections integrated into the show's set design.
Online experience
The show will also be available live via three types of online experience on the RedPill platform. Online audiences will be able to tune in to a livestream of the performance from any connected screen (computer, smartphone, tablet) or participate in the action by entering the show on their gaming PCs or connected Virtual Reality headsets through Redpill VR's social VR platform
---
The technological exploration required to create this new experience was made possible thanks to the support of the Canada Media Fund, and benefited from a Megagrant grant from Epic Games.
Informations
Dates : December 15, 16 and 17 at 8pm
Location : Les 7 doigts de la main, 2111 boulevard Saint Laurent
Duration : 45 minutes, followed by a live and virtual DJ performance
Price In-Person : 30$, taxes included
Online Rate : 20$, taxes included
About the 7 Fingers
In 2002, The 7 Fingers set out to redefine contemporary circus from its essence and explore the infinite possibilities offered by the mixing of artistic disciplines. Each of these projects bears the unmistakable 7 Fingers trademark. The company has consistently expanded its horizons by mixing genres, exploring new vocabularies.
Since 2021, the collective has been more actively exploring the possibilities offered by motion capture technologies, video game engines and scenic integrators via LAB7, a formidable playground installed in their Studios in Montreal.
About Shocap Entertainment
Created in partnership by the founders of Lifelike & Believable Animation Design and Animatrik Film Design, Shocap Entertainment produces live cross-reality shows, leveraging real-time visual effects technology and human performance on stage to create unique experiences shared simultaneously with live and online audiences connected from VR headsets, gaming PCs and video streaming services.
Each production draws on contributions from multiple creative voices, with experienced collaborators from live performance, film, animation and video games.

About Redpill VR
Redpill VR is a technology company building an end-to-end platform based on Unreal Engine 5 for creating, distributing, and monetizing next-generation live virtual interactive performances. Artists are able to reach a global audience from any stage, studio, or the comfort of their own home.
A live event in a Redpill virtual world is a spectacle filled with stunning computer generated environments, accurate spatial music and VOIP, stylistic or photoreal gorgeous avatars which the fans or the performers can puppeteer organically, rich interactions, DMX controlled light shows, audio lifeforms reacting to live music accompanied by live video feeds from the real world or a VJ. With Redpill sensor fusion and markerless tracking for DJs to optically tracked multi-performers for acrobats and dancers, physical performances will migrate to the virtual world.