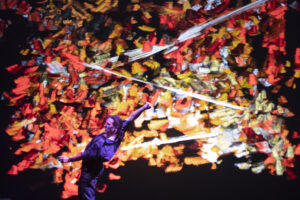 Oct. 17 to 21, 2022
Between October 17 and 21, 2022, the professional programming of MTL Connect was held at The 7 Fingers. Organized by Montreal Digital Spring (Printemps numérique), MTL Connect is an annual event that brings together local and international communities to look at questions related to digital development. LAB7 took part in MTL Connect by leading a conference and a panel, by offering artistic presentations, by hosting the event's the international delegation, and by inviting and hosting a group of Abenaki youth.
Samuel Tétreault (co-founder and co-artistic director of The 7 Fingers) and Olivier Goulet (designer and founder of Supply & Demand) led the conference, Les arts du mouvement à la rencontre de la technologie, during which they discussed meeting points between movement, art, and technology, speaking to a packed room. Samuel and Olivier also presented the work that they and their collaborators have been working on with LAB7. LAB7 also organized the panel, Métavers et NFT : Nouvelles frontières de la création, during which specialists analyzed the impact and possibilities of NFTs and the metaverse on artistic creation.
Dance All Over, an installation inspired by the work of painter Jean-Paul Riopelle, was also presented by LAB7 at MTL Connect. In the interactive piece, movements are transformed in real time into a virtual artwork reminiscent of Riopelle's style, with strokes of color evoking Riopelle's use of a spatula to apply paint.
LAB7 hosted the event's international of delegation, offering a tour of our facilities and presenting our work. Finally, as part of the cultural outreach programs of LAB7 and Digital Spring, a group of Abenaki youth was invited to experience the installation and discover the possibilities of using technology in the performing arts.