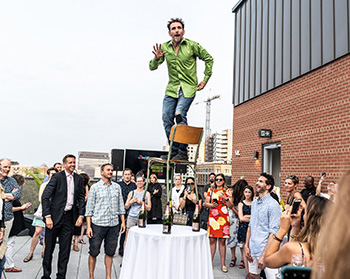 The members of the board and the executive director of The 7 Fingers Foundation welcomed numerous business personalities at a cocktail on the magnificent terrace of our Studios on Tuesday, July 9th.
It was a unique opportunity for various Montreal business leaders to meet The 7 Fingers cofounders before attending the show BOSCH DREAMS together with artistic director Samuel Tétreault.

Over 100 people gathered to discover our creative world.
Among the present guests: Michelle Adams (Rio Tinto), Bernard Amyot (LCM Avocats), Philippe Baylaucq (Cinéaste), Robert Blain (Lune Rouge), Marc Dufresne (Fonds Manufacturier Québecois), Robert Dumas (Financière Sun Life), Claude Gagnon (BMO), Véronique Gagnon (Fond FTQ), Nadine Gelly (Alliance Numérique), Claude Godon (Raymond Chabot Grant Thornton), Emilie Hamel (GHGSat Inc.), Emilio Imbriglio (Raymond Chabot Grant Thornton), Eric Laflamme (CIBC Innovation), Isabelle Leclerc (Coop Fédérée), Laurent Liagre (EY), Isabelle Lopez (MySmartJourney), Liv Lunde (GamePlay Space), Stéphane Maillot (Axium Infrastructure), Ivana Markovic (Osedea), Sokmean Nou (Calixa Technologies), Robert Racine (Optimum Talent), Serge Sasseville (Québecor), Elizabeth Stefanka (Stefanka), Julie Tousignant (Ubisoft).