Montreal, February 14, 2019 – The 7 Fingers and Virgin Voyages are pleased to announce their collaboration. Two original 7 Fingers productions will be featured onboard the "Scarlet Lady," which will set sail towards the Caribbean in April 2020.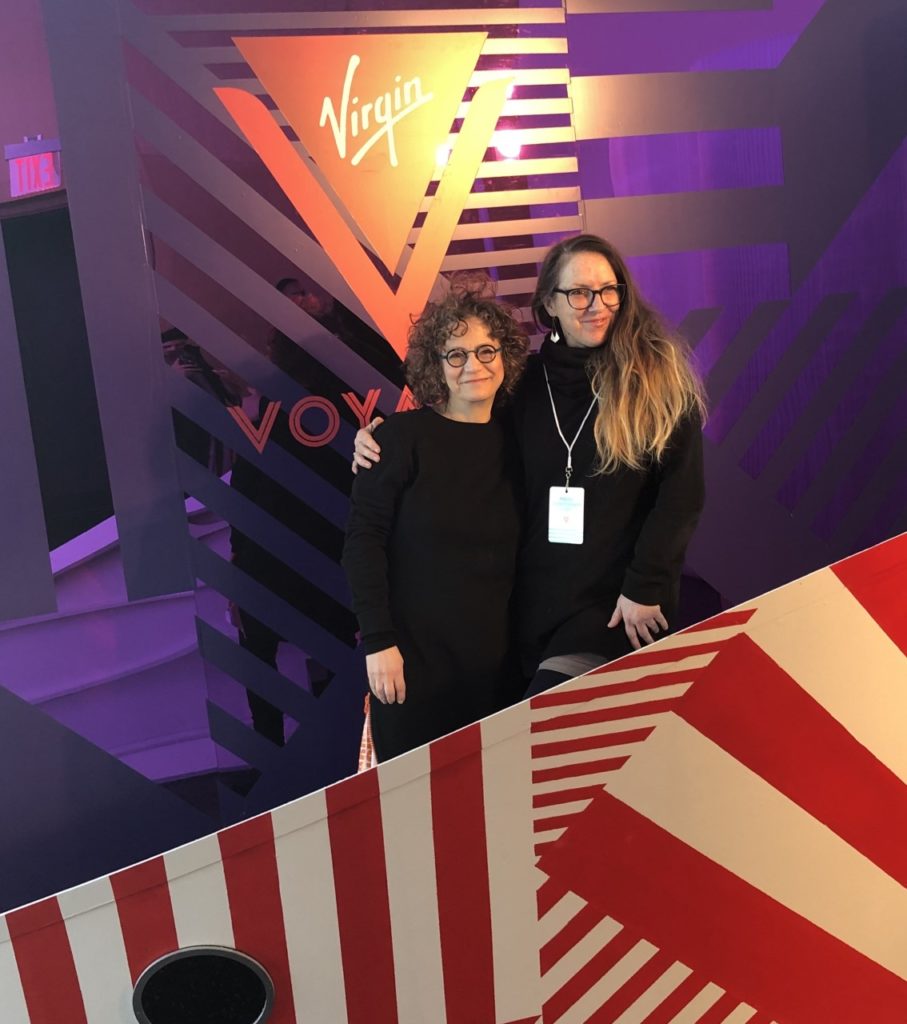 Gypsy Snider & Tina Diab.
Press Conference in New York.
For the past several years, the Virgin Voyages creative team has been closely following The 7 Fingers. It was in August 2015, the year in which Richard Kilman, now Virgin Voyages Vice President of Entertainment, attended Traces at the Edinburgh International Festival, that the two organizations began to grow close. In 2017, the partnership came to fruition as Virgin Voyages put together a creative team to realize its next major project: a completely new kind of voyage by sea.
Nassib El-Husseini, CEO of The 7 Fingers, underlines the importance of this collaboration : "I'm very pleased the company can benefit from such an international exposure. It's an exceptional opportunity to expand our creativity, through this valued partnership that extends for many years."
"No kids, no buffets, and no limits," promises Virgin Voyages: a 24/7 festival at sea where tranquility meets curiosity, and travelers can expect the unexpected. The Scarlet Lady will offer passengers a host of tailor-made, intimate, authentic entertainment, including two original productions created by The 7 Fingers in the principle theater onboard.
It is in the new 7 Fingers Creation Centre, in the heart of the Quartier des Spectacles in Montreal, that the artists have been creating two 60-minute shows: Duel Reality and Ships in the Night. The first is an acrobatic reimagining of Shakespeare's Romeo and Juliet, staged as a sporting event for 12 circus performers, directed by Shana Carroll. Ships in the Night is a multimedia cabaret for ten dancers and a singer, into which director Gypsy Snider places two young protagonists in search of their identity.
Three creative labs of one to two weeks have already been held between June 2018 and February 2019 for each of the shows. While production will continue throughout 2019, the rehearsals with performers will resume for eight weeks in January and February 2020, half of which will take place on the ship itself.
The project's creative team was announced by Richard Branson on February 14. His speech was part of a celebratory event in New York as sales for the Virgin Voyages inaugural season officially opened for bookings between April 1 and October 21, 2020.