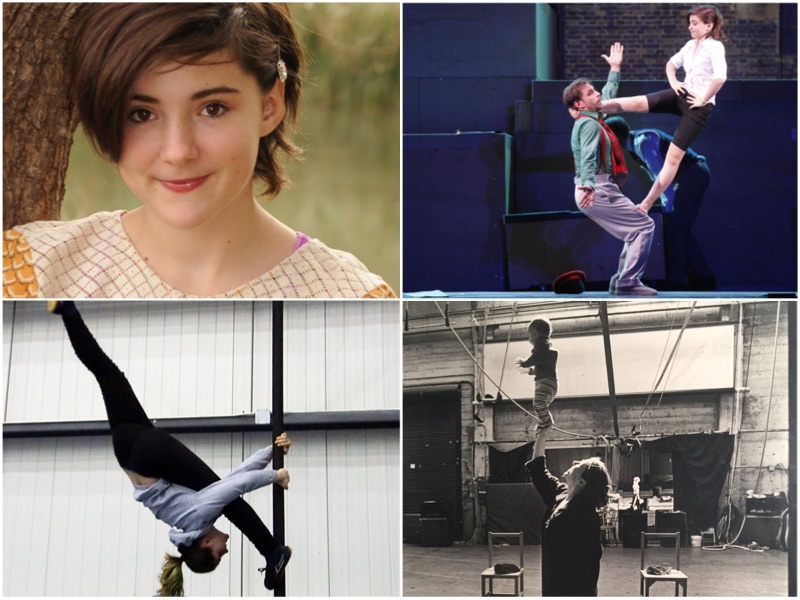 Laska Léonard, circus kid on tour !
15 year old Laska Lorenzo Léonard was born in San Francisco, California, immigrated with her family to Canada at the age of 3 months, spends her summers in the Berkshires, Massachusetts and is a 3rd generation circus performer. Her grand parents founded the Pickle Family Circus in San Francisco in 1974. Her parents founded The 7 Fingers (Les 7 doigts de la main) in Montreal, Qc. Laska has performed on and off since she was an infant and stared in the 7 Fingers' production of Amuse for 2 full seasons. She has been an musician, actress and acrobat since she was a toddler. Laska competed in regional gymnastics in her Montreal neighbourhood of Saint Henri at Club de Gymnastique Gadbois and then moved on to the preparatory circus program of 14 hours a week of training at L'ecole de Cirque de Verdun for 2 years.
At the age of 13 Laska was accepted into a high school music/study program at Saint Nom de Marie.
Laska continued her circus training at the National Circus School's recreational program in Montreal and has attended Smirkus camp in Vermont for the past 2 summers.
Last fall, Laska submitted an audition tape to Circus Smirkus, the country's only traditional traveling youth circus located in Greensboro, VT. She was then called for a live audition in January and was consequently accepted to the 2017 original Smirkus touring production of "Midnight at the Museum". She will travel and work with 29 other performers ages 12 to 18 who represent some of the world's most exciting young circus talent. This year's troupers hail from 13 states: California, Illinois, Massachusetts, Maine, Minnesota, Missouri, New Hampshire, New Jersey, New York, Rhode Island, Vermont, Virginia and Washington, as well as Africa and Canada. Their skills include juggling, wire- walking, clowning, acrobatics, Chinese pole, hula hoop, aerials, and unicycling. The performers will travel to Greensboro, VT for three weeks of rehearsals at Smirkus headquarters in June, then hit the road for a 66-show tour that touches down in 16 cities and towns in the Northeast over the course of 7 weeks. As "Smirkos," they will join fellow troupers in tasks such as taking care of props, selling tickets and popcorn, and working cooperatively with the professional tent crew, light and sound technicians, equipment riggers, costumer, musicians and others who travel with the one-ring show.
Over the years, Circus Smirkus has become known for its theme-based and "story" shows. Themes have included Chefs, Pirates, the Wild West, and Superheroes, while stories have included original circus versions of "Alice Through the Looking Glass" and "Pinocchio." This year, Circus Smirkus celebrates its 30th anniversary with "Midnight at the Museum!"… an exhilarating celebration of what happens when a sleepy museum comes to life after hours. Troy Wunderle is the show's artistic director and Mark Lonergan the creative director. Wunderle has been Big Top Tour Artistic Director of Circus Smirkus for 19 years, and serves as Director of Clowning for the Ringling Brothers and Barnum & Bailey Circus. He is also founder of Wunderle's Big Top Adventures LLC. Lonergan is the Founding Artistic Director of Parallel Exit, and Guest Director for the 2015 – 2106 Big Apple Circus production The Grand Tour.
For information and tickets, visit www.smirkus.org, or call 1-877-SMIRKUS (1-877-764-7587) or email info@smirkus.org.