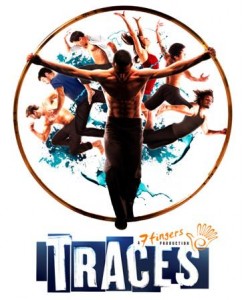 TRACES, the acclaimed show by the Montreal-based troupe 7 Fingers, has opened at New York's Union Square Theatre (100 East 17th Street) to rave reviews and is now selling tickets through January 1, 2012. TRACES began previews on Friday, July 29th and officially opened Monday, August 8th.
Here's what the critics are saying:
Ben Brantley, The New York Times: "If you're looking for a fix of pure urban adrenaline, I can introduce you to this dealer on Union Square. These people have more natural spring than a taut trampoline. And when they rush the stage in the opening minutes of Traces, you feel that mad, pulse-raising magic that you associate with cool, busy nights in big cities."
Joe Dziemianowicz, Daily News: "Ascend to dazzling heights with the sexy mindblower Traces. Effortless athleticism, balletic grace and youthful cool are hallmarks of this 90-minute entertainment that puts a fresh coat of thrilling on the notion of circus. The title Traces suggests something left behind. In the case of this eye-popping work, it's jaws, dropped by gobsmacked audience members."

Mark Kennedy, Associated Press: "This thrilling show will leave you with a delicious sense of dread. The 90-minute hip-hop-flavored show mixes high-risk acrobatics, music and dance with the thrill of street performance. The pace is breathless and electric. The seven-member ensemble goes from traditional eye-popping stunts such as spinning inside a 6-foot whirling ring to leaping through hoops to whipping around a basketball to doing skateboard tricks. Hectic and scary? Slightly paranoid? Oddly biographical? Very, very cool? Welcome to New York, Traces. You'll fit in fine."

Adam Feldman, Time Out New York: "Traces – a brash athletic vaudeville with a street-smart twist- is tremendously entertaining. It's suffused with an infectious spirit of camaraderie; the show's humanity and charm make its exuberant, parkour-inflected feats of acrobatics especially thrilling to watch. Traces celebrates youthful vigor, achievement, fun and possibility in a world that only seems inhospitable to them. Eager and able to please—in the finale, the cast literally jumps through hoops—the show drops your jaw into a big goofy smile."
Jeremy Gerard, Bloomberg: "Traces is circus arts on a heroic scale. It's terrific: Ninety minutes of high-impact flying through the air, often in what seemed like slo-mo. Add to that, feats of strength notable for the grace and beauty of their execution and a memorably intimate yet innuendo-free duet. It's as much a dance as it is a series of flights and flips of breathtaking athleticism."

Roma Torre, NY1: "Under the heading 'less is best', I'd have to place Traces at the top among acrobatic acts. In this age of spectacular circus shows, Traces is the un-spectacle – raw and wholly human. There are no costumes to speak of, a very crude set, the most basic of props and really little more than tons and tons of talent. For that brief hour and a half we spend with them, they're all the coolest people in the universe."

In TRACES, the human body is pushed to its limits as a group of friends leave their mark in a run-down warehouse through acrobatics, music, and dance. Fusing the traditions of circus with the energy of street performance, TRACES is an explosive display of raw emotion and physicality in an intimate urban setting. When it counts, will you leave it all on the stage?
TRACES features Creative Direction by 7 Fingers (Les 7 Doigts de la Main) and Direction & Choreography by Shana Carroll & Gypsy Snider. TRACES is performed by Mason Ames, Valérie Benôit-Charbonneau, Mathieu Cloutier, Bradley Henderson, Phillipe Normand-Jenny, Xia Zhengqi, and Florian Zumkehr with alternate cast members Héloïse Bourgeois, Sen Lin, and William Underwood.
TRACES is produced by Fox Theatricals (Kristin Caskey & Mike Isaacson), Tom Gabbard, Amanda Dubois, The Denver Center for the Performing Arts, Nassib El-Husseini, and Thomas Lightburn.
Tickets are currently on sale via Ticketmaster.com and by phone at 800-982-2787.
FOR PRESS MATERIALS PLEASE VISIT:
www.thehartmangrouppr.com
FOR MORE INFORMATION ON TRACES PLEASE VISIT:
www.tracesusa.com