LOFT returns to Quebec! Les 7 doigts de la main are thrilled to perform the show which marked the beginning of their great adventure. The public will find Pat, Sam, Seb, Gypsy, Isa, Mimi, Evelyne and DJ Pocket on stage.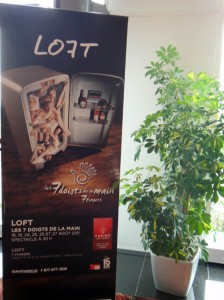 LOFT will be back for six performances at the Théâtre du Casino du Lac Leamy.
Tickets are on sale at Ticketmaster.
A Brief History:
Created in 2002, LOFT was the collective's first show. The show has since been watched by over 230,000 spectators in 19 countries.
2002 : Prix de la Relève at Montreal's Just for Laughs Festival
2003 : Prix Nikouline awarded to « Diabolo » at the Festival Mondial du Cirque de demain in Paris
2004 : LOFT inaugurates North America's first circular performance space, Montreal's Tohu
2005 : LOFT is the first circus show to be invited to perform at Ottawa's National Arts Centre
2006 : Nominated for Théâtre du quotidien award by LeDroit/Radio-Canada (public recognition)
2007 : LOFT spends the holidays at London's famed Roundhouse
2008 : 500th performance of LOFT