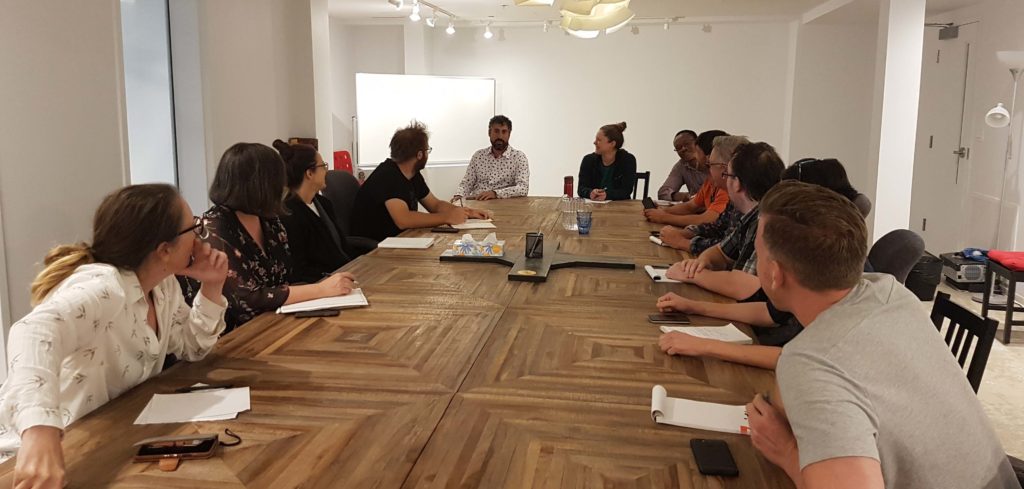 POSITION: INTERNATIONAL DEVELOPMENT AGENT – TOURING SHOWS
REPORTS TO: DIRECTOR OF TOURING AND DEVELOPMENT
Purpose
Working under the supervision of the Director of Touring and Development, the employee will coordinate various mandates related to the collective's development and touring.
Principal responsibilities ­– development
Help elaborate a development plan for national and international touring projects.
Search for potential bookings and partners for the company's shows.
Expand and update the department's contact list.
Represent the company during conferences, showcase events, tradeshow events, festivals, and meetings with programmers and producers.
Principal responsibilities ­– touring
Support negotiations of terms of involvement by drafting contracts (deal memos).
In partnership with the Director of Touring and Development, prepare, help draft, and edit contracts; have touring and booking contracts signed; and edit contract summaries.
Follow through with programmers and producers (agents, theatres, festivals) regarding contracts, billing, and other administrative matters.
Develop upon and follow through on staging costs. Prepare budgets for different touring shows.
Coordinate discussions between the technical and logistic departments regarding show tours; determine schedules; verify technical feasibility and cargo requirements in partnership with the technical team.
Keep the tour schedule and events calendar updated.
Ensure the organisation and archiving of all touring and dissemination related documents.
Develop a summary table of project and show contacts on an Excel file.
Other tasks
Participate in the entry, archiving, and fling of papers and digital data.
Write minutes during meetings.
Offer support to the Communication Department by elaborating upon touring and dissemination documents.
Participate in the internal life of the company (team meetings, taking part in working committees).
Perform other tasks related to the mission of the company as directed by his/her immediate superior.
Skills profile
Professional skills
University degree in communications, marketing or arts management, or a combination of experience deemed equivalent.
In-depth knowledge of the performing arts field (knowledge of circus arts a major asset).
Three years experience in touring and development.
Writing, editing, and budgeting skills.
Perfectly bilingual in spoken and written French and English.
Basic understanding of Microsoft Office Suite and Office 365.
Understanding of FileMaker Pro, an asset.
Personal skills
Good organizational skills, planning skills, and priority management.
Versatility, autonomy, and initiative.
Analytical skills.
Ability to work in a team.
Discretion and availability.
Strong interpersonal skills.
Strong communication skills.
Interested applicants should send their resume and a cover letter to emplois@les7doigts.com by October 17, 2018, 4 pm.
No telephone calls, please.
Please be advised that only candidates selected for an interview will be contacted.